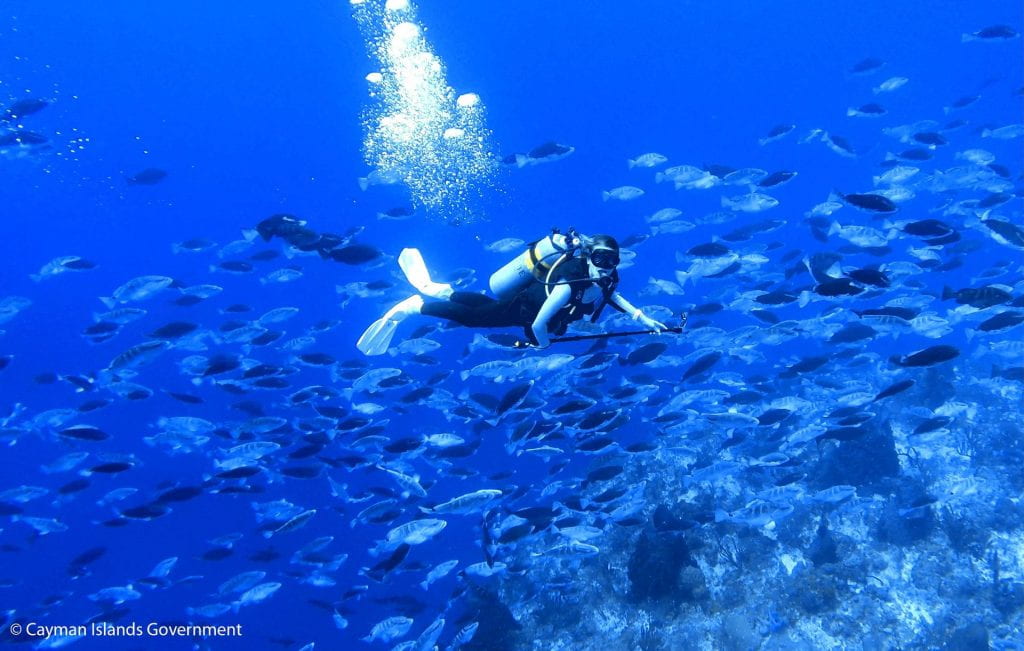 We understand in concrete ways that the ocean is the lifeblood of Earth – and life itself. In Cayman, the threats to our oceans are compounded.  We see the real impact of these threats, but also the potential impacts we can make, ourselves, via the choices we make every day. We understand the need to educate ourselves and others about the potential of these impacts.
I'm a grade two teacher at Cayman International School. My students do a project based learning unit on the ocean exploring the question, "How are we connected to the sea?" Engaging students in the Grouper Moon Project each year is one of the many ways that I develop my students' conceptual understandings about how we affect and are affected by our ocean. 
Joining the Grouper Moon Project as a team member this year was an absolute dream come true! It not only allowed me to experience the project by literally diving in with the thousands of Nassau grouper, but I was also able to engage my students and their families with the project. While I was on my expedition to Little Cayman with the Grouper Moon Project team, my students engaged in REEF's Grouper Education Program. They learned about the food web and engaged in a game of food web jenga, viewed the PBS Changing Seas Grouper Moon documentary, went on a virtual 'dive' and completed their own diver interviews, made estimations of the Nassau grouper population and graphed their estimates on a class bar graph, discussed ocean issues such as overfishing and plastic pollution and played the board game 'Grouper Race for Survival', and also played an exciting game of 'Tag the Grouper.' You can find links to all of these resources below. Additionally, students were able to send questions that they had to me, and I was able to send videos to them with the answers to their questions. 
The Grouper Moon Project is a Cayman success in every way. Because the island was quick to realize the impacts of overfishing and protected both Nassau grouper and their spawning aggregation site, the Nassau grouper are recovering from the impacts of decades of overfishing. This is a direct result of people coming together, educating others, and making a difference. 
Throughout students' engagement with the ocean project based learning unit, students complete individual research projects and work in teams to combine information, connect understandings and grow ideas. Students then use what they learn about ocean issues to advocate for them, inspire others, and make change.
Students' curiosity always brings me joy, and to see them curious about the world around them and what is happening here in Cayman makes teaching and learning more engaging for the students and me!
Grouper Moon The Next Phase: A Guy Harvey Expedition
PBS Changing Seas Grouper Moon 
Grouper Race Gameboard Grouper Race For Survival Game